Dear Prayer Partner,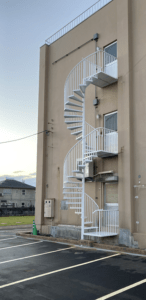 Agape's Building Project
We thank the Lord for the various projects we were able to complete this past Fall. We were able to expand our parking lot, install a new snow melting system, and install a new emergency exit staircase (to the left). We still have a few more projects to tackle, but they will have to wait for the spring and the snow to melt. We thank the Lord for the funds He has so abundantly provided for these and other projects ahead.
Christmas Services
In midst of COVID-19, God blessed our Christmas season. We were able to hold a couple of special services for Christmas. We are always excited about the opportunity Christmas provides us to tell others about Christ's birth and what it means for us today. We had a number of lost attend our Christmas services. Pray for God to work in their lives.
Our 35th Anniversary
We arrived in Japan 35 years ago. In December, our church people totally surprised us with several special gifts to celebrate our 35 years in Japan. We thank you for your prayers and giving that have helped make these 35 years possible. Most of all we thank the Lord for calling us to serve Him in Japan. The past 35 years have not always been easy, but God has always been faithful to us. Both Cindy & I agree that you can never go wrong by following the Lord.


Online Bible Study
Last October, we started a new online Bible study, Firm Foundations: From Creation to Christ. Thank you for praying for this Bible study. We are thankful for a good number of believers are participating in this live online study. But even more exciting is the number of lost who are participating. Pray that the lost will continue to attend and see their need of Christ as their Savior.
Omicron is Everywhere
The omicron variant is spreading like wildfire. Of course, many of you have first-hand experience with this variant. In spite of omicron's spread, most of Agape's believers continue to faithfully attend services.
We pray God will bless you and keep you. Thank you for your faithful support and prayers.
Co-Laborers for Christ,
Mike & Cindy Burgett