Three Kids Trusted Christ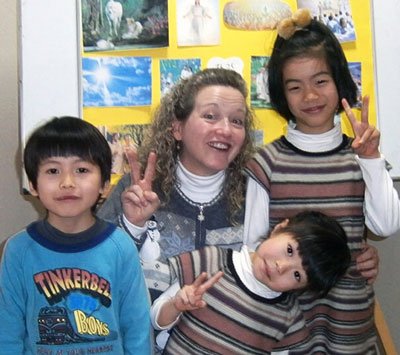 This year, after hearing the story of Jesus death on the cross, Kazuki (6), Yuho (5), and Shiyu (7), all raised their hands that they wanted to trust Jesus as their Savior. Then and there each of them prayed and asked Jesus to forgive them of their sin. After 4½ years of Bible stories, they finally understood and wanted to believe. Pray for these three precious children and others who attend Sunny Kids each Sunday. Pray that they will follow God and serve Him the rest of their lives.
National Youth Camp
Five of our young people attended National Youth Camp this year. Several of them made decisions while at camp. It was exciting to fellowship with two young men who used to attend Agape (after university, they moved to Tokyo to work). We thank the Lord that both of these young men are attending good churches in the Tokyo area. Please pray for them and for the rest of our young people.
Mother's Day
Japan also celebrates Mother's Day on the second Sunday of May. This year, eight mothers attended our Mother's Day service. Pray for God to bless and use each of these ladies to be a testimony to their families many of which are still lost.
Thank You
Thank you for your faithful support. Your faithfulness made it possible for three children to come to know Christ as their Savior. Please pray that many more children and adults will trust Christ as their Savior.
Co-Laborers for Christ,
Mike & Cindy Burgett